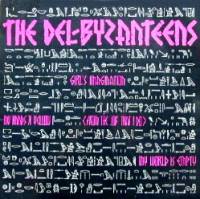 Girl's Imagination / My hands are yellow (from the job that I do) / My World is Empty

1981 - vinyl 12" single
[Don't Fall off the Mountain, Y 9]

---


Lies To Live By

1982 - vinyl LP
[Don't Fall off the Mountain, X 14]


Side 1:
Lies to Live by
Draft Riot
War
Sally Go Round the Roses


Side 2:
Girls Imagination [RealAudio]
Welcome Machines
Apartment 13

---
Draft Riot / Sally Go Round the Roses

1982 - vinyl 7" single
[Don't Fall off the Mountain, Z 16]

---
"Girl's Imagination" has been released on cd in the Beggar's Banquet compilation Pspyched (1999).


and again on the Gomma compilation Anti-NY (2001).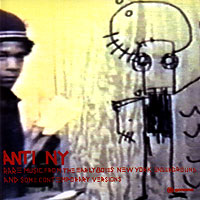 The Del-Byzanteens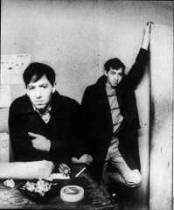 "A band that insouciantly blended high and low, virtuosity and amateurism, calypso and science fiction, pots and pans and drones and the Supremes. They released several records, on a British label, which did very well in the former Yugoslavia."
-Luc Sante
In the early 1980's, Jim Jarmusch was part of a band called The Del-Byzanteens. They released a 7" single, "Draft Riot", a 12" EP, "Girl's Imagination", and one LP "Lies to Live by".
The group consisted of (from left to right):
Josh Braun (Percussion, Drums), Dan Braun (Drums, Percussion), Jim Jarmusch (Vocals, Keyboards), Philippe Hagen (Bass) and Phil Kline (Vocals, Guitar)
Luc Sante wrote the lyrics to some of their songs and James Nares sometimes contributed as a percussionist.
"At that time everyone in New York had a band," Jarmusch recalls. "The idea was that you didn't have to be a virtuoso musician to have a band. The spirit was more important than having technical expertise, and that influenced a lot of filmmakers." (Interview in The Washington Post, 1984)
In the German book Jim Jarmusch, there's a chapter about The Del-Byzanteens, "Lies, Sweet Lies - Jim Jarmusch ist kein Rockstar" by Christine Heise, available on-line as a pdf file.